IoT Solution (eSense) for Manufacturing Industry Launched in Malaysia
TK International Sdn Bhd ("TKI") has launched an IoT solution (eSense) to save electricity and improve production efficiency at manufacturing sites.
Industry 4.0 = "INDUSTRY 4WARD" announced by former Malaysian Prime Minister Mahathir on October 31, 2018, is a national policy designed to improve productivity and increase the number of highly skilled producers by transforming the manufacturing industry that supports Malaysia's economic growth into smart factories.
On February 19, 2021, former Prime Minister Muhyiddin announced the "MyDIGITAL" initiative as one of the guidelines to complement national development policies such as the 12th Malaysia Plan (12MP) and the Shared Prosperity Vision 2030 (SPV2030), and the Malaysian government is further promoting digitalization.
In response, companies and organizations in various industries and business categories have been applying and utilizing IoT, while small and medium-sized enterprises (SMEs) have not been able to utilize IoT as much as large enterprises because they do not have IT specialists or the resources to make major continuing investments in new businesses.
To this end, we have launched a new brand "eSense" as an IoT solution to improve productivity and reduce costs in the small and medium-sized manufacturing industry in Malaysia, and will start providing electricity monitoring services as the first service of the new brand.
In Malaysia's industrial electricity pricing system, the monthly base rate is determined by the maximum demand per unit of time (Maximum Demand). In other words, if electricity consumption is concentrated during certain time periods, electricity bills are based on the maximum demand during peak hours, even though electricity is not used much during other time periods.
Therefore, visualization of power consumption during each time period and leveling of power consumption (peak shift) will lead to savings in electricity costs. In addition, visualization of electricity also provides many other insights in terms of energy and production efficiency, such as reviewing work processes and considering replacement of old machines.
Overview of our Energy Efficiency Monitoring Service (e-Sense)
We plan to gradually add a group of solutions in three stages, Stage 1-3, depending on customer needs and budget.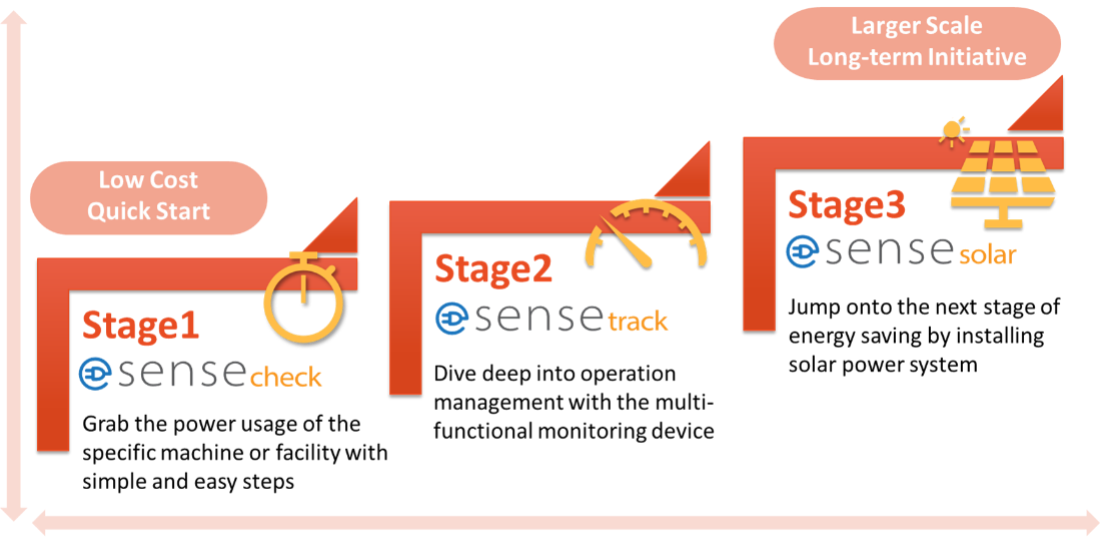 Stage 1 – eSense check
Quickly and easily determine the power usage of specific equipment or the entire facility.
Suitable for small numbers & short periods of monitoring due to the limited number of devices and time that can be monitored at one time.
Stage 2 – eSense track
By incorporating a multifunctional monitoring device, more data can be collected, such as power consumption, machine status, job information, and operator information, which can then be combined for better operational management.
Stage 3 – eSense solar
You can take action for energy conservation and climate change by installing solar power.
Our partnerships with solar panel suppliers allow us to provide you with reliable, high-quality service.
▶ More about Energy Efficiency Monitoring (e-Sense)
About TK International Sdn. Bhd.
Incorporated in 2014, TK International is an MSC-status Japanese IT consultancy and solution provider based in Malaysia. Together with our partners, we help our clients achieve digital transformation. Our focus areas are Internet of Things (IoT), Cloud Services, Digital Marketing and Business Process Outsourcing (BPO). For more information, please visit our website at
https://bridge-i.asia
.
*TK International Sdn Bhd has changed its name to BRIDGE International Asia Sdn Bhd as of Novemeber 2023.
■ Inquiries about services
Company name: Bridge International Asia Sdn.Bhd. (1088406-U)
Registration Number: 201401012326 (1088406-U)
Founded: April 9, 2014
Address: B-8-02, Capital 2, Oasis Square, No. 2, Jalan PJU 1A / 7A,
Oasis Damansara, 47301 Petaling Jaya, Selangor, Malaysia
Representative: Shingo Abe, Managing Director, and CEO
Web:
https://bridge-i.asia/
Media:
https://connection.com.my/
Business content: Malaysia-based comprehensive IT service provide
Business consulting
Cloud service
IoT solution
Digital marketing
Inside sales
■Contact Person
-------------------------------------------------
Bridge International Asia Sdn. Bhd.
Person in charge: Shingo Abe (Supported languages: Japanese / English)
TEL:+60 18-387-5096
MAIL:shingoa@bridge-i.asia